Programs
Guided Hikes
A great way to see the canyon – day or night - guided by naturalists who are experts in our local ecosystems.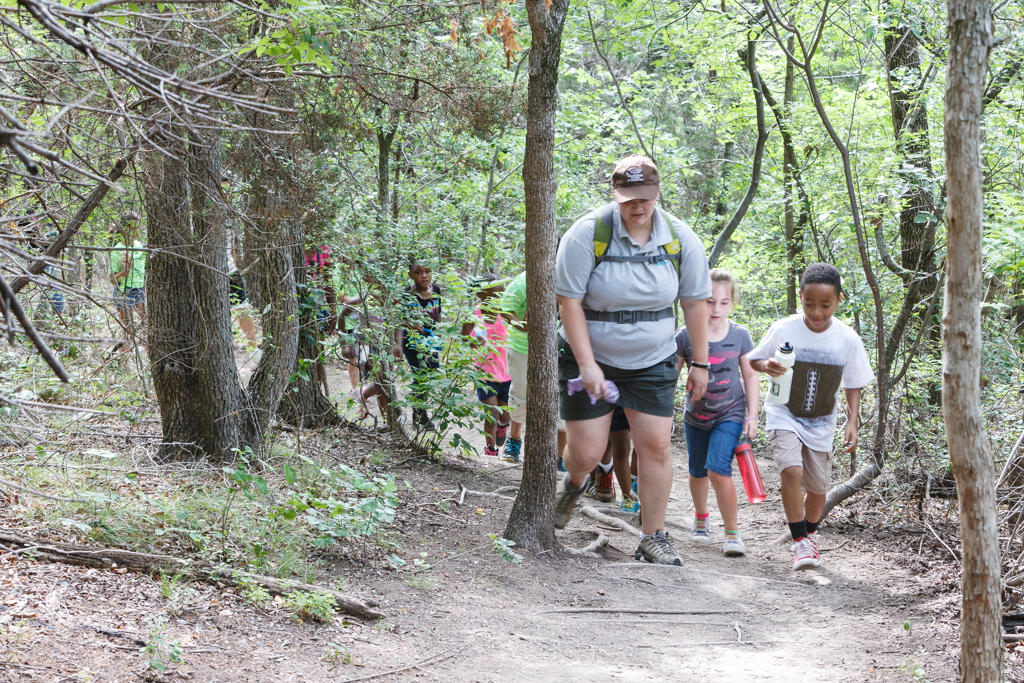 Join one of our naturalists or educators on an interpretive hike of our trails.
All of our hikes are modified to be age-appropriate. Please let us know the general age and interests of the group when you make a reservation.
Guided hikes may not cover the entire trail. Hike distance is based on group interests along the trail.
No flash photography allowed on night hikes (it disturbs wildlife).
Trail Options and Pricing
Trail distance: 1/2 mile round trip
Difficulty: Easy
Time Length: 30-45 minutes
This stroller-friendly trail gets you up-close and personal with some of the features which make this place special. Look for tight clusters of the scaly-barked Shin Oak which are often marked by the horizontal feeding holes of the Yellow-bellied Sapsucker. Listen for songbirds as they flit from tree to tree. Get to know your vines: the thorny thin Greenbrier, the thick woody Grapevine, the rootlet-covered Poison Ivy and the palmate-leafed Virginia Creeper each provide crucial cover for our wildlife. Best of all, the short trail allows you slow down and let the life of the forest unfold around you.
Pricing:
Daytime hike: $60
Night hike: $150
Priced at a flat rate based on up to 25 people per group.
Add $3/person up to a max of 35 people per group (total children & adults).
Trail distance: 1.65 miles round trip
Difficulty: Moderate to Difficult
Time Length: 45-60 minutes
With an elevation change of 150 feet over the first half mile, the West Loop Trail provides a challenge and a change in perspective! This trail provides spectacular panoramic views and an opportunity to get deep into this beautiful site. You can frequently spot soaring birds from the high points. A large, black soaring bird is likely to be a Turkey Vulture while the Red-tailed Hawk has a white belly and a rusty tail. People aren't the only ones who use this trail so keep your eyes out for scat and other signs of the many creatures for whom Dogwood Canyon is home. As you continue around the flatter loop on top of the hill, experience the tranquility of quiet.
Pricing:
Daytime hike: $85
Night hike: $200
Priced at a flat rate based on up to 25 people per group.
Add $3/person up to a max of 35 people per group (total children & adults).
Night Hike or Daytime Hike?
Most wildlife is more active in the evening and some are only active at night. Daytime hikes focus on what is visible on the trail while night hikes rely more on the sense of sound. We typically avoid the use of flashlights on night hikes and allow our eyes to adjust to the dark. While we encourage all ages to experience night hikes, for those groups with young children that may be scared of the dark, we recommend booking during twilight hours.
Daytime hikes can be booked during our center's regular hours. All hikes booked outside of our regular hours are priced as night hikes.
How to Book
Schools, book through our online Academic Program Request Form (link found in our Policies, Booking and Contact page)
All others, contact us with the expected number of participants and proposed dates/times.
Email: dcac@audubon.org
or Phone: (469) 526-1980
Payment and Cancellations
For tours booked by schools, the Academic Program Policies, which can be found on our Academic Program Documents page, apply.
For tours booked by individuals, payment is due in full at the time of booking. Cancellations will be accepted up to seven days prior to the hike, but Audubon will retain a $35 administrative fee from the refund amount. Cancellations that occur less than seven days prior to the tour will result in forfeit of the full payment. Date change requests will be accommodated when possible, but cannot be used to avoid a cancellation fee.
Inclement Weather Policy
Applies to ALL bookings:
If Audubon cancels due to weather, Audubon will notify the primary contact as soon as practical based on the weather forecast. An attempt to reschedule will be made, but if a rescheduled date cannot be agreed upon, Audubon will refund the full payment received.
How you can help, right now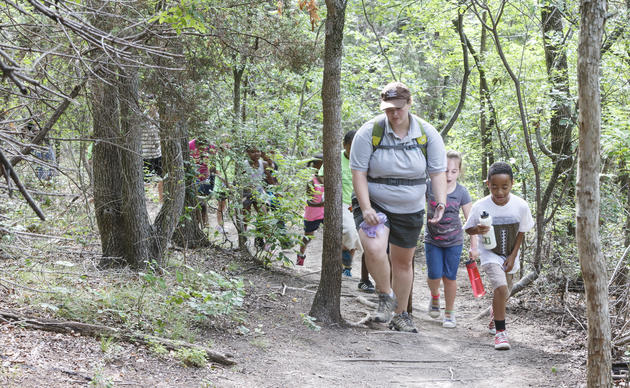 Career Opportunities at Audubon
Come join our staff and help us carry out our efforts to conserve and restore natural ecosystems to benefit both humanity and the earth's biological diversity!