Hiking Trails at Dogwood Canyon Audubon Center
Our goal is to conserve the natural ecosystem of the canyon for the birds and wildlife that inhabit it, for educational purposes, and for future generations to enjoy this unique and special place in the same way you are able to enjoy it today. We ask that all visitors respect and help preserve this ecosystem and this property. All visitors are expected to practice the leave no trace principles of outdoor ethics and observe the following rules and guidelines for usage of our trails and facility.
Trails are open only during regular operating hours

and special events

. Trails are subject to closure due to trail conditions and rain. For hikes outside of regular hours, consider a guided hike, including night hikes, available by appointment.

Unauthorized access to trails after hours is prohibited and is considered criminal trespassing. The land managed by the center is privately owned by National Audubon Society. Therefore, when the center is closed, the trails are also closed.

To protect the preserve and its wildlife, and in maintaining the property as a unique and peaceful sanctuary within the Cedar Hill nature corridor, dogs are not permitted on the Dogwood Canyon property, including the hiking trails. The Balcones concrete trail in front of the Audubon center is open to dogs. Trained service dogs are welcome. Emotional support and companion animals do not meet the definition of a service animal and do not have the same access rights. Required proof of service dog status includes service dog ID card, service dog vest, harness, and/or tags, or credible verbal statement.
Stay on designated trails and specifically avoid areas where vegetation is impacted. Walk in the middle of the trail, even when wet or muddy. Avoid walking on vegetation as it widens the trail and contributes to erosion. Our property is not fenced and trails are close to property boundaries. Failure to stay on designated trails may result in your trespassing on neighboring private property. Our trails do not connect to the neighboring Cedar Mountain Preserve Trail or trails at Cedar Hill State Park or Cedar Ridge Preserve.

Do not "cross cut" trails, create new trails, or "bushwack".

Do not litter. "Pack it in, pack it out." Be careful not to drop trash. Pick up after children and dogs. Pack out all trash, food and litter. We have trash and recycling receptacles in our Nature Store, in the breezeway outside of our Nature Store, and in the Nature Play area.
Do not post signs or notices of any kind. Flagging and other unauthorized trail marking is prohibited. Graffiti is prohibited, including but not limited to, writing, painting, marking, scratching, carving, or etching graffiti anywhere on the property.

The Basin

is the large concrete circular depression between our building and the parking lot. The Basin is to be observed from walkways and decking only. Do not walk on vegetation to reach Basin walls. Do not climb or descend the walls of the Basin. Do not walk along the rim of the Basin.

Observe Leave No Trace ethics. Leave what you find. Preserve the past: observe, but do not touch, cultural or historic structures and artifacts, including the historic cabin and its contents. Leave rocks, plants and other natural objects as you find them.

Avoid introducing or transporting non-native species.

Animals and unwanted pets may not be released on the property.

Respect wildlife. Observe wildlife from a distance. Do not follow or approach them. Do not allow children or pets to chase or approach wildlife. Wildlife is protected by law.

There are both venomous and non-venemous snakes on the premises. Snakes are protected by state law. If you encounter any snake, give it wide berth and leave it alone.
Poisonous plants, including poison ivy, are on the property. Know what poison ivy looks like and avoid it. Poison ivy is a beneficial plant for wildlife. Only humans have adverse effects to it.

Be considerate of other visitors. Avoid loud voices and noises.

Geocaching is prohibited due to on-site conservation.

No vehicles of any kind permitted beyond the parking lot, including but not limited to, bikes, scooters, motorized vehicles, remote controlled toys, etc. Do not park or drive on grass.

Our property is smoke and drug-free. Smoking, e-cigarettes and vaping are prohibited. All intoxicants and illicit drugs are strictly prohibited.
Alcohol is prohibited except when authorized in a contract for facility rental.
No campfires, explosives, fireworks, or open flames of any kind are permitted.

Hunting and overnight camping are prohibited.

No firearms or other weapons are permitted, except as allowed by applicable law.

Use of drones is prohibited on the property.

Photography/Videography Guidelines: We welcome casual photography of our wonderful landscape and pictures of family and friends enjoying Dogwood Canyon. However, it is prohibited to take any photography or videography of the types stated below without obtaining permission from center staff and, when appropriate, National Audubon Society, Inc.; paying required fees; abiding by the requirements of our photography policy, below

; and obtaining a permit from facility staff. Types of photography that are restricted include but are not limited to: all photography and videography for commercial purposes; all photography and videography being performed for a client, whether for profit or not; all portrait photography and videography; all photography and videography of persons in formal attire or costume, including but not limited to, weddings, engagements, quinceañeras, families in matching outfits, graduations, cheerleading, sports, etc. Remember that this is private property and not a public park.
How you can help, right now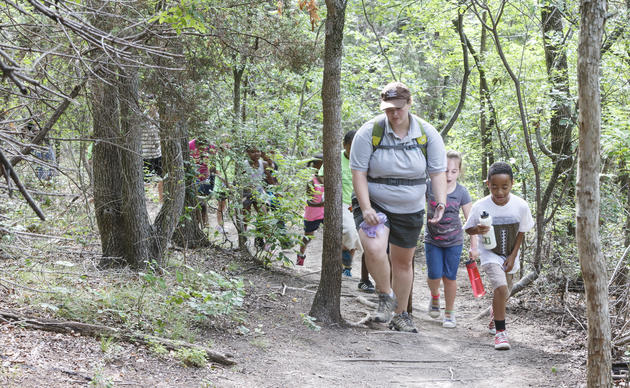 Career Opportunities at Audubon
Come join our staff and help us carry out our efforts to conserve and restore natural ecosystems to benefit both humanity and the earth's biological diversity!