Visit
Plan Your Visit
Hours, Pets, Admission, Location, Parking, Trail Access and Directions
Hours
Covid-19 Note: Dogwood Canyon has limited trail access. Visit the main page for further details and updates. Visit our virtual education page to learn more about our center and the surrounding flora and fauna.
Public open hours: Thursday-Saturday, 9am-2pm (last trail entry at 12:30pm).
Trail access: Reservations required to access trails during our limited open hours (see above. Center is closed to the public Sunday-Wednesday. Parking and gates close at 2pm on public access days. Online reservations can be made here.

Trail closure: Trails will be closed after significant precipiation. Best land management practices protect and keep trails sustainable when we close trails to hiking when trails are wet. We do our best to post updates and contact those with trail reservations if trails are closed. Please contact the center to verify if in doubt. Closed major holidays (including the day after Thanksgiving and several days around Christmas and New Years).
Keep in mind, this is property with business hours and is owned by National Audubon Society. Therefore, when our center is closed, our trails are also closed.
Pets
To protect the preserve and its wildlife, and in maintaining the property as a unique and peaceful sanctuary within the Cedar Hill nature corridor, dogs are not permitted on the Dogwood Canyon property, including the hiking trails. The Balcones concrete trail in front of the Audubon center is open to dogs. Trained service dogs are welcome. Emotional support and companion animals do not meet the definition of a service animal and do not have the same access rights. Required proof of service dog status includes service dog ID card, service dog vest, harness, and/or tags, or credible verbal statement.
Admission
Admission is donation-based to allow everyone in our community the opportunity to visit this ecosystem. While we do not have a set admission fee, your donations enable us to maintain the trails and facility as well as staff the front desk, which determines our open hours. Remember, when the center is closed, the trails are also closed.
Donations can be made at the metal donation box at the end of the ramp. Donations can also be made online.
Location
We are located on FM 1382 in Cedar Hill, Texas between Cedar Hill State Park and Newman International Academy (formerly Northwood University) at:
1206 W. FM 1382
Cedar Hill, TX 75104
Map & Directions
View our Contact Us page for contact information
Parking and Trail Access
The parking lot is split into two areas. Visitors are welcome to park in either area. Parking inside the gate is limited to staff, volunteers and visitors hiking Dogwood Canyon trails. The gate locks at 2pm on Fridays and Saturdays (closed all other days). To access our hiking trails: follow the granite pathway to the ramp which leads to the C.E. Doolin building. Please check in at the Gift Shop window (just to the left of the double doors in the breezeway), view a map and get other information. The trails are through the gate and behind the building. Please close the gate behind you.
We share the larger parking lot next to FM 1382 with Cedar Mountain Preserve (which is a different property than Cedar Ridge Preserve in Duncanville) and the City of Cedar Hill. Cedar Mountain Preserve is owned by the County of Dallas and managed by the City of Cedar Hill. Cedar Ridge Preserve is owned by the City of Dallas and managed by the Audubon Dallas Chapter, a separate entity under the National Audubon Society umbrella.
The City of Cedar Hill's Hike and Bike Trail is currently under construction. This is the paved sidewalk crossing the front of Audubon's property between the two parking areas and extending to the north and south of the parking area.
When open, Cedar Mountain Preserve is accessed via the paved path on the north side of the large parking lot. This preserve is currently closed due to the construction of Cedar Hill's Hike and Bike Trail. The kiosk closest to FM 1382 marks the trailhead. This 1-mile trail leads through a small wooded area, across a meadow next to FM 1382, and then turns left into the forest where it completes a loop and then returns to the point at which it entered the forest. The correct turn into the forest is not currently well-marked. Please do not enter other areas of the forest as this disturbs habitat for plants and wildlife. The trails on Cedar Mountain Preserve do not connect to Audubon's trails. Please do not follow any flagging or attempt to connect trails. You risk crossing neighboring private property and you contribute to erosion of natural areas that are not maintained for public access. This is at a detriment to the flora and fauna of the canyon area.
Stay On The Trail
While hiking on any trails, stay on the trail. Flagging that may appear along the trail often leads to nowhere and is used for several purposes that are not intended to lead visitors off-trail. Trails you see leading off the established trail may be used by wildlife, maintenance crew, research, or individuals that own neighboring properties. By following any flagging or unmarked/unestablished trails, you are leaving the trails for which visitors are granted access. Doing so increases the risk of encountering poisonous plants and venomous snakes that may be hidden from view. These false leads may also cause visitors to trespass on neighboring private property. It is not uncommon for those who have ventured off-trail to become lost in a large unfamiliar wilderness. Most importantly, leaving the trail damages the delicate ecosystems these preserves have been established to protect.
While there is a lovely view of Joe Pool Lake from Audubon's West Loop Trail, none of the trails accessed from Dogwood Canyon Audubon Center reach Joe Pool Lake. In order to access Joe Pool Lake, visit Cedar Hill State Park, the Dam at Joe Pool Lake, or parks on the Grand Prairie and Mansfield side of the lake.
Leave No Trace
Always practice Leave No Trace principles when hiking. Our Trail Rules are based on Leave No Trace principles.
Directions
From the West: Take I-20 eastbound to the Beltline Rd (FM 1382) exit. Turn right on FM 1382/Beltline Rd. Pass the entrance to Cedar Hill State Park. The center entrance is 1/2-mile further on the right. If you get to Newman International Academy, you have just missed us.
From Dallas: Take I-35 south to Hwy 67 south; proceed on Hwy 67 a few miles south of the I-20 intersection and take the FM 1382 exit. Turn right on FM 1382. After passing through the traffic light at New Clark Rd, you'll soon pass Newman International Academy on the left. The next left turn lane in the center median strip will be for Dogwood Canyon Audubon Center.
How you can help, right now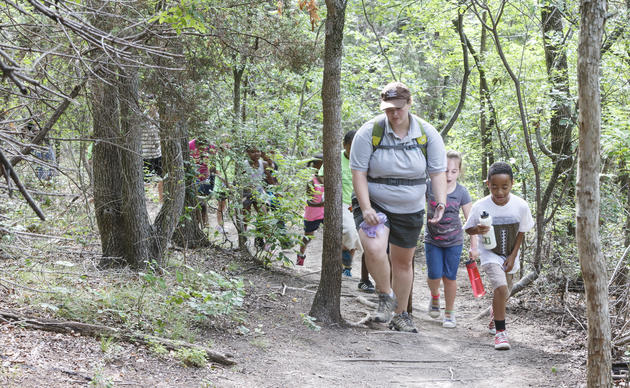 Career Opportunities at Audubon
Come join our staff and help us carry out our efforts to conserve and restore natural ecosystems to benefit both humanity and the earth's biological diversity!