This information is provided as a reference and may have changed since updated on our page.
Balcones Trail (FM 1382 Trail)
Note: this trail is not officially open.
Please note that the new concrete trail that runs along FM 1382 and traverses our driveway is managed by the City of Cedar Hill, which is providing updates regarding closures and other COVID-19 related information at https://cedarhilltx.com/2628/Coronavirus-Disease-2019-COVID-19. This trail is not complete. Please be aware of your surroundings and ongoing construction.
Cedar Mountain Preserve
(for Cedar Ridge Preserve in Duncanville, continue scrolling down)
This preserve, which protects plants and wildlife, has a short hiking trail that loops through the forest located between our property and Cedar Hill State Park, which is known as Cedar Mountain Preserve. This trail can be accessed from the FM 1382 concrete trail mentioned above. This preserve does not have its own website nor contacts for information. It is for hikers only (no bicycles or motorized vehicles). More trail information is available here.
IMPORTANT: The Cedar Mountain Preserve is currently not maintained and a hiking trail does NOT connect to any trails at Dogwood Canyon Audubon Center or Cedar Hill State Park. Cedar Mountain Preserve is owned by Dallas County and is public property. Dogwood Canyon is private property owned by National Audubon Society. Any flagging or signage directing you to Audubon's property from this trail is unauthorized (and creates a host of other problems) and following it will cause you to trespass, not only on Audubon's private property, but potentially on private property owned by residential neighbors. Please respect our neighbors, our agreements with the county and the homes of our wildlife by staying on the designated trail.
Numerous visitors have become lost and/or injured in the forest by going off trail and following unauthorized flagging and/or signage. Please note that neither Audubon, nor the City of Cedar Hill, will ever post signs that will lead you to trespass on anyone's private property. You should exit the forest from the same location that you entered and avoid all flagging or stray trails.
Cedar Hill State Park
Trails at Cedar Hill State Park may be open for day use depending on the status of the park and their trails. At the time this page was updated (June 11, 2020), Cedar Hill State Park was requiring that day-use passes be purchased online in advance of arriving at the park. There is a daily limit on the number of passes available, so please plan accordingly, especially for weekend days and holidays with anticipated nice weather. Please note that even if Cedar Hill State Park is accepting visitors, some or all of their hiking trails may be closed. Please contact Cedar Hill State Park for their trail status. We recommend first checking their website and Facebook page before calling.
Cedar Ridge Preserve
Located in Duncanville, across FM 1382 from Cedar Hill State Park, Cedar Ridge Preserve has approximately 9 miles of hiking available. The entrance is on Mountain Creek Parkway. Cedar Ridge Preserve is managed by volunteers of the Audubon Dallas chapter (not employees of National Audubon Society) and is owned primarily by the City of Dallas and Dallas County. Please check their Facebook page for hours, closures, and updates, including any COVID-related restrictions and limitations they may have in place.
How you can help, right now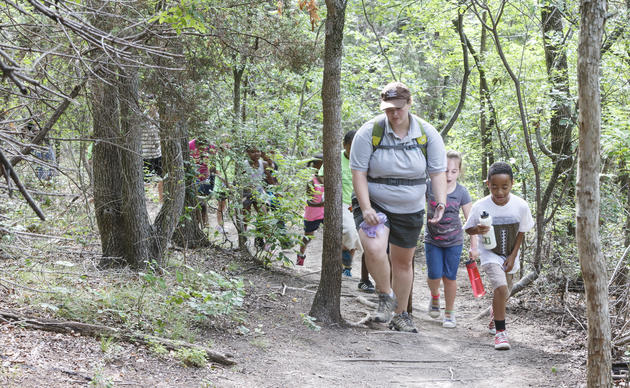 Career Opportunities at Audubon
Come join our staff and help us carry out our efforts to conserve and restore natural ecosystems to benefit both humanity and the earth's biological diversity!