Where is summer camp held?
Summer camp is held at Dogwood Canyon Audubon Center at 1206 W FM 1382, Cedar Hill, TX 75104. We are between Cedar Hill State Park and Newman International Academy.
Drop off is in the Cedar Elm classroom.
After camp begins each morning, camp moves around on our property and goes off-site twice a week.
How much does camp cost?
Each week of camp is $125, except for the two weeks that have holidays, which are $110. We are closed on Memorial Day and the 4th of July.
Each child will incur a one-time $40 registration fee for the summer.
Optional Extended Care is an additional $25 per week per child.
We require all children to have completed camp profiles before we accept them at camp. If the profile is not completed online prior to the deadline, paperwork must be completed in person when the child is dropped off and a $30 data entry fee will be immediately due.
What is included in the fees?
One t-shirt for the child for the entire summer. Additional shirts may be purchased at the time of registration or at the center (size availability may be limited).
Lunch and one snack for each child. Please read below for additional information on lunches and snacks.
For those who purchase Extended Care and arrive by 8:15 AM, a cold breakfast option (such as Pop Tart) is offered.
All field trip costs.
All transportation costs for field trips and swimming trips.
What is included in the optional souvenir package?
A logo drawstring backpack
A logo reusable water bottle
A logo pencil
The cost is $8.66, including tax
Does my child qualify?
Yes, if your child meets the following requirements:

Be between the ages of 6 and 11 on the first day of that week's camp;
Have completed a full year of kindergarten or higher grade level; and
Has not been banned from our camp program.

Examples:

"My child turns 6 on May 31 and has completed kindergarten." - Your child is eligible to attend weeks 2 thru 9 of camp. He is not eligible for week 1 because he will not be 6 years old when the camp week begins on May 28.
"My child is 6 years old and has been homeschooled." - Your child is eligible to attend if he has completed a kindergarten-level equivalent.
"My child is 6 years old and starts kindergarten in the fall." - Your child is not eligible to attend camp this summer, but will be next year!
"My child turns 12 on May 26." - Your child is eligible to attend the first week of camp because he will be within the age range on the first day of that week's camp (May 25). However, he will age out after that week.
Does my child have to attend all nine weeks of summer camp? Can I register my child only for certain days?
We do not require that a child attend more than one week of camp. You may choose to have your child come for one week, all nine weeks, or some amount in between.
We do not offer daily registrations, but there is no penalty for being absent from camp. So, you can register your child for a full week and keep him/her home some days if you choose (or head off for vacation before the weekend). However, there will not be a discount or refund for the days missed and the funds for that day will not be transferred to another week.
Do you accept children with special needs? My child is high-functioning autistic.
We do accept children with special needs. However, we may not be the best fit. Our days are not structured like a typical daycare center. Because we have children constantly participating in activities that require adult supervision, we need to have all eyes available for all children. It is not economically feasible for us to staff in a way that provides nearly constant individual attention. When we are forced to routinely have counselors focus individually on one child for a significant period of time, it becomes a safety concern overall because fewer counselors are available to watch over all children on a consistent basis. Therefore, if it becomes apparent that a child will need more individual attention than we are equipped to provide, we will have to ask that the child not return to camp.
Specifically with children on the autistic spectrum, please keep in mind that our days are packed with activities that we are constantly moving between. Children are shifting their focus frequently and needing to readjust to a different activity every 30-60 minutes. These constant changes often result in children on the autistic spectrum acting out by becoming aggressive with other campers or with counselors, running away from the group, or exhibiting other behaviors that show they are not comfortable.
If you believe that your child can handle the constant changes, and can offer practices that you have successfully used to help manage transitions or other behavioral issues, and the child is not aggressive, then we are willing to try. However, because we do not offer refunds on camp, we encourage you to look into purchasing a protection plan that would cover you if we were unable to continue having your child come to camp. We also recommend not signing up for more than one week to start with, but ask that you also note that we do end up selling out some weeks.
Please contact us at (469) 526-1980 or dcac@audubon.org before registering to discuss a specific set of special needs.
Can we visit before signing up?
We would be happy to show you the facility before you sign up. If summer camp has not yet begun, please call ahead to make sure the rooms are not in use.
When is the registration deadline?
The registration deadline for each week is the prior Saturday. For example, week 1 of camp runs Tuesday, May 28 thru Friday, May 31. The deadline to register is Saturday, May 25. The system will not allow you to register after the deadline. We do not accept walk-ins.
What if I missed the registration deadline?
Call (469) 526-1980 after 9:00 AM the first day of camp and we will see if it is possible to arrange for your child to attend camp that week and what time we can accept drop off. There will not be a discount for a shortened day/week. We will require payment of a $30 data entry fee in addition to all other fees due for the week.
Please do not arrive for drop off without a completed registration and without making an arrangement for late registration by phone.
Please note that our center is closed on Sundays and you will not be able to reach our staff, so if the Saturday deadline has passed, the earliest you will be able to speak to administrative staff is Monday morning when our phones are turned on at 9:00 AM. Camp counselors will not be able to process late registrations.
What if there are no spaces left in the week I am trying to register my child for?
Unfortunately, we do have space restrictions and do sometimes sell out all spaces available in some weeks.
When a week is sold out, a waitlist option will automatically become available on the registration portal. Please complete the waitlist registration.
If a spot comes available, we will contact you. We will need your confirmation for payment before moving your child from the waitlist to regular registration, so if we do not reach you, we may contact others on the waitlist. We will move children off the waitlist in the order that we receive confirmation that the child is still available for the week and that payment can be processed. Therefore, receiving a message from our staff asking about moving your child off the waitlist does not guarantee that spot for your child until we have processed payment.
How do I register?
Please visit our online registration portal by clicking here.
All registrations must be completed online. We cannot accept registrations in person unless it is a late registration and we have already discussed the situation with you.

After purchasing a camp registration, the parent/guardian

must

complete the registration process by completing the Health History and additional required information on CampDoc. For the safety of all children at camp, we cannot accept children that do not have a completed online profile. Please note that refunds are not provided when the registration process has not been completed, but the camp registration has been purchased.

Registrations for our camp cannot be completed through the City of Cedar Hill.
Is financial assistance available for camp?
Thanks to funding from Wild Birds Unlimited and other donors, a limited number of scholarships are available for camp.
Each scholarship awarded covers one full week of camp, including the one-time registration fee. Each scholarship recipient also receives the souvenir package at no cost.
If Extended Care is required, the family must pay the $25 fee for the week.
For 2019, scholarships may only be used during July.
Scholarship recipients may enroll in additional weeks of camp by paying only the fees for the week. The one-time registration fee is waived for the entire summer.
In order to obtain a scholarship, download the application and read thoroughly. Send the complete application to dcac@audubon.org at least seven days prior to the desired camp week. If the scholarship is approved, a unique coupon code will be provided for use on the registration portal. Parents/guardians are required to complete the registration through the portal within two days of notification of the award. Scholarship recipients are subject to the same camp rules and requirements of all other camp participants.
Is there a discount for siblings? What about other discounts?
Because we already provide low pricing for our camp and provide a great value for the price, we are unable to extend additional discounts.
Can my child's sibling be a camp volunteer since he/she is too old for camp?
If your child is interested in volunteering for camp, he/she must be at least 15 years of age and will be required to commit to a certain number of volunteer hours each week.
Volunteers must actively work during their volunteer hours and will be asked to leave their cell phones with an Audubon staff member if phone usage becomes a problem.
Volunteers are subject to background and drug tests.
When the volunteer's shift is over, he/she must have transportation to leave camp and cannot be left unattended on Audubon property.
Volunteer work is unpaid, but Audubon will sign off on hours worked so that the hours can be used towards volunteer hour requirements.
If you are interested in more information, please contact Julie Collins at jcollins@audubon.org.
What is the adult to child ratio? How many children do you accept per week?
Our policy is a 1:10 adult to child ratio.
We limit our registration to 30 children per week.
Do the staff members complete background checks? What other safety precautions do you take?
Our camp counselors are employed by the City of Cedar Hill. National Audubon Society employs the camp leadership team and administrative staff. Both Audubon staff and City of Cedar Hill staff complete a rigorous application process that includes reference checks, background checks, and a personal interview. All Audubon and City of Cedar Hill staff must pass drug tests.
All volunteers must pass background and drug checks.
Typically, our camp counselors are also employed full-time during the school year as teachers. We only hire adult camp counselors who are experienced in child care.
All Audubon and City of Cedar Hill staff that work with children are required to be certified in CPR and First Aid.
We have an AED on-site.
What are camp hours? When can I pick up and drop off my child?
Summer camp begins at 9:00 AM and ends at 4:00 PM.
Children who registered for the camp day only (and have not purchased the optional Extended Care), may be dropped off no earlier than 8:45 AM and no later than 9:15 AM. They should be picked between 3:45 PM and 4:15 PM.
We cannot accept children earlier than 8:45 AM unless Extended Care is purchased. If a child has not arrived by 9:15 AM, we cannot guarantee that we can accept the child. The group, including all camp counselors, may have left the building. Audubon staff responsible for operating the center cannot accept children for camp.
We offer optional Extended Care for an additional $25 per week per child. When Extended Care is purchased, a child may be dropped off as early as 6:30 AM and picked up as late as 6:30 PM. Please note that the pre-camp and post-camp hours are not filled with programmed activities. Children are welcome to bring breakfast, or if arriving before 8:15 AM, participate in the cold breakfast we offer (at no additional charge). During the pre-camp and post-camp hours, we will have board games and television available for the children.
Please note that if a child is not picked up by the applicable time, a late fee will apply. Late fees are calculated as an initial $25 fee for each instance. If the child still has not been picked up ten minutes after the pickup deadline, an additional charge of $1.00 per minute will be applied. All late fees assessed must be paid before we will accept the child back at camp the following day.
If a child has not been picked up thirty minutes beyond the deadline, Audubon may contact the Cedar Hill Police Department.
Please note that calling ahead to announce a late pickup will not excuse late fees. Please make alternate arrangements when possible.
Can I pick up my child in the middle of the day?
Because we fully plan each day, the schedule may not allow for your child to be available for pick up at the center at a specific time. We will not alter planned activities to accommodate an early pick up because this affects the experience of all other children in our camp. Therefore, if the group has left the building, such as for a hike, the child will not be available for pick up.
We never allow children to be picked up from an off-site location. No exceptions.
We discourage early pick ups and late drop offs even when the children will be at the building. These events disrupt camp and detract from your child's full camp experience. However, we understand that there are some instances where a late drop off or early pick up is unavoidable. In those situations, please work with our camp counselors to determine the best time to pick up your child. This will typically be during a transition time between activities, or during a snack or lunch break.
How can I get ahold of the camp?
Call our main phone number at (469) 526-1980. If you get the automated system during the summer, please listen for summer camp options.
Where does the camp go off-site?
Weekly swimming trips are typically at Crawford Park, which is run by the City of Cedar Hill's Parks and Recreation Department. If camp will be visiting another swimming facility, we will notify parents/guardians in advance.
Weekly field trips vary and will be disclosed to parents/guardians the week of camp. Some possible destinations include fossil hunting at Ash Grove Cement; Nova Gymnastics; Paws for Reflection Ranch; Ellen's Amusement Center; Cedar Hill Recreation Center; Frontiers of Flight Museum; a local bowling alley; Grapevine Aquarium; Cedar Hill Fire Department; and others.
Typically, field trips are on Wednesdays and swimming trips on Fridays. This may vary based on site availability and other factors.
What if I don't want my child to swim or I want my child to wear a life vest at the pool?
No problem! When you complete your child's online profile, you will be given these options.
We do want you to know that the pool has lifeguards and that your child's swimming ability is tested at the pool. If you do give permission for your child to swim, you will see additional questions that ask about your child's swimming ability, whether they should be restricted to the shallow end, and whether you require that they wear a life vest. Even if the lifeguard determines that your child is a strong swimmer and could swim without a life vest or could swim in the deep end, we will never allow your child to go beyond the limits that you set.
Please note that if you choose to change your permissions after completing the questions online, we require that you complete a new Pool Permission Form in person.
Please discuss your expectations for the pool with your child. When children are already aware that they will be required to wear a life vest or will be restricted to the shallow end before arriving at the pool, and they understand that camp staff is only enforcing the limits set by the parent/guardian, we find that the child is able to better enjoy the pool.
Pool time is treated as a privilege by camp staff. Throughout the week and at the pool, a child's behavior can result in the removal of this privilege.
All children who are not permitted to swim, either due to parental restriction or loss of the privilege, will remain with the group and travel to the pool site, but will not be permitted to swim.
Will my child get swim lessons at camp?
No, this is not a swim lesson program. When the children are at the pool, they enjoy "free swim."
We do, however, accept children that do not know how to swim. They will be required to wear a life vest and stay in the shallow end.
What meals are included and what food do I need to send with my child?
Lunch is provided for all campers at no additional charge through the Cedar Hill ISD lunch program.
For campers who have purchased Extended Care and arrive by 8:15 AM, a cold breakfast, such as Pop Tart, is offered.
In addition to a lunch break, campers will take two snack breaks. All campers will need to bring a snack for one of these breaks. Cedar Hill ISD's vendor provides the second snack.
If your child is sensitive or allergic to certain foods, or follows dietary restrictions, your child should bring ALL snacks and meals. This includes two snacks and lunch. If arriving early, during pre-camp Extended Care, your child is also welcome to bring breakfast.
Each child is also required to bring a reusable water bottle for refilling throughout the day. If you purchase the souvenir package, a reusable water bottle and drawstring backpack are included.
Do not send food with your child that requires refrigeration or heating. We do not have a microwave or refrigerator available.
Will we get a menu for the week?
We rely on the vendor that provides meals for Cedar Hill ISD to provide us with the menu. We typically receive this each Friday for the following week.
Please note that we do not control the meals and have experienced situations where the vendor brings an unexpected meal that does not match the menu. We discourage the vendor from making these changes without advance notice, but we cannot guarantee that the situation will not happen. Therefore, if your child is sensitive or allergic to certain foods, we encourage you to send ALL meals with your child.
We will send or post the menu as soon as possible. We try to make a hard copy available for pick up the Friday before (if your child is attending the previous week of camp). We also make a hard copy available the week of camp.
On days that lunch is eaten at the center, a hot lunch will be served. When lunch is taken offsite, a sack lunch will be provided with a cold lunch.
For a sample menu, click here.
Will we get a schedule for the week? What is a week of camp like? What type of activities can I expect my child to do?
We will either post or e-mail the schedule as soon as it is complete and all activities, field trips, and guest speakers have been confirmed. We also make a hard copy available for pick up the week of camp. Typically, schedules are released the week before camp.
We have found that parents prefer the consistency of purchasing a certain number of high-value activities each week. Therefore, each week, we schedule at least one guest speaker, one off-site field trip, and one off-site swimming trip. We also do a combination of crafts, camp activities and games, outdoor play, guided hikes, science experiments, and animal encounters. Therefore, each week is similar in the type of activities offered. However, no two weeks are the same because the activities themselves are different.
Due to the opening date of the pool, the first week of camp may not include a swimming day. We are doing our best to find a suitable substitute. Camp will definitely go off-site twice that week, but we may have two field trips rather than a field trip and pool trip.
For an example of a week's schedule, click here. This is only an example and is not a valid schedule for any week of camp.
If there is lightning in the area, the pool trip will be canceled. Due to the unpredictable nature of lightning storms, we will typically not replace the pool trip with another off-site trip. We will, however, fill that time with enrichment activities.
Please note that schedules are subject to change due to unforeseen circumstances such as weather, guest speaker cancellations, inability to obtain certain materials, etc. We will make every effort to replace any changed or canceled activity with a similar activity.
What if my child does not want to participate in an activity?
We understand that your child may not want to participate in every activity, every day. We will encourage your child to participate, but will not force participation.
We will also explain to your child that we do not provide an alternative activity. They may opt out of the activity and rest quietly while the group participates.
Any child that opts out of an activity will be required to remain with the group.
Since we progress through most activities within 30-60 minutes, your child will have the opportunity to participate in another activity shortly.
How much time will my child spend outdoors?
Parents tend to ask this question for two reasons. The first being a concern for the summer heat and, secondly, wanting their child to spend as much time as possible outdoors. We have the same concerns.
We monitor the weather and temperatures every day. On hot days, we try to get the children outdoors as much as possible in the mornings before the hottest part of the day. When the temperatures are extreme, we do still go outdoors, but in shorter bursts of time.
Please note that when hiking through the forest, the trail is shaded and the temperatures are a little bit cooler than outside of the forest. This is similar on the shaded balcony of our building where several activities and games take place.
We do take precautions with the heat and will cut an outdoor session short if necessary due to heat.
How much time will my child spend watching television during the camp day?
We limit television time between the hours of 9 AM and 4 PM. However, during snack and lunch breaks, the television may be on so that each child can eat at his/her pace and then watch television while waiting for the next activity. Whenever the television is on, alternative indoor activities are also made available, such as board games. Television is always age appropriate.
Additionally, if we are filling a canceled activity (such as pool time during a thunderstorm or due to a canceled guest speaker), we may show a nature- or science-based age-appropriate film.
There may also be activities, based on typical camp activities, that involve watching a nature- or science-based age-appropriate film, such as a drive-thru style movie, either indoors or outdoors. We limit the number of activities like this each week.
Do you split children by age groups?
Minimally. If they are split at any time, it's due to slight modifications in the same activity.
Typically, children gravitate to their own age groups and bond with other children their age.
Although the maturity level difference between a young 6-year old and mature 11-year old is significant, we have not experienced a need to frequently split children based on age groups.
What should or shouldn't my child wear to camp?
Mark the inside of all apparel with the child's name and phone number. Audubon is not responsible for loss or damage to personal property.
All campers should wear socks, sneakers/closed toe shoes, and cool, comfortable clothing (i.e. t-shirts, shorts). Hats and sun visors are encouraged.
Regulation swim wear is required at the pool. The pool will not admit entry for children wearing street wear. Therefore, if your child is brought to camp without swimwear on a swim day, we will require that appropriate swimwear be delivered to the child before the group departs for the pool. Otherwise, we will not accept the child at camp that day.
Campers MUST wear their camp t-shirt on field trip and swim days to ensure safety away from camp. Campers will receive their t-shirt on the first day of the first session they attend. Campers will receive one free t-shirt per summer. Additional shirts may be purchased during registration or on-site.
Plastic shoes, sandals, Heelys, flip flops, spaghetti strap tank tops, and inappropriate shirts are not proper attire for camp activities.
Excessive jewelry and long, dangling earrings are not safe and should not be worn to camp.
Participation in this program will involve sustained outdoor activity.
Campers' clothes and shoes will get dirty, and in some cases, muddy. Please send children in clothes that can be stained.
Children should arrive at camp with sunscreen already applied and should be able to reapply on their own throughout the day.
What additional items should my child bring to camp?
Mark the INSIDE of ALL bags and apparel with the child's name and phone number. All belongings should be labeled.
When purchasing the souvenir bag, we encourage you to allow your child to decorate the outside of the bag with a permanent marker, or at least place his/her name on the outside of the bag, since several children have matching bags.
Children should bring the following to camp EVERY DAY:

Backpack or drawstring bag (included in the optional souvenir package)
Extra set of clothes (an entire set of clothing, including socks) for accidents or excessive dirtiness/spills/mud
Reusable water bottle (included in the optional souvenir package)
All children are expected to bring one snack. Those with dietary restricitions and food sensitivities should bring lunch plus two snacks. If arriving during pre-camp Extended Care, children are welcome to bring breakfast. Remember, do not send food needing a refrigerator or microwave!
Sunscreen (we recommend SPF 30 or higher) - The first coat should be applied at home before coming to camp.
Insect Repellant
Hat or Cap
Deodorant (optional, but recommended)
Small amount of money for the gift shop (optional) - We allow students with money to purchase snacks from the gift shop during snack time. Also, once a week, there is a small amount of time scheduled for those who have money to shop for souvenirs in the gift shop. Please refer to the schedule for which day.
Children should be able to self-apply sunscreen and insect repellant.

On swim days, please ALSO send:

Towel
Have your child wear his/her swimsuit underneath clothes
Must wear the camp t-shirt

On field trip days:

Must wear the camp t-shirt
What items should I not send to camp with my child?
Children should not bring any valuables to camp. Specifically, please do not send the following items with your child:

Video games
Toys
Music devices
Headphones or earbuds
Any electronic device
Any large amount of money (defined by that amount of money that would be a problem if the child were to lose or spend in a way that you would disapprove of)
Jewelry
Pool toys
How much do snacks and souvenirs cost in the gift shop?
Food and beverage items already include tax in the price when applicable:

Most candy and chips are $1.50;
Candy ring pops are $1.00;
String cheese (when available) is $0.50;
Ice cream is $2.00;
Gatorade is $2-$3 depending on the size;
Soda is $1.50.

Souvenirs range widely in prices and start around $0.25 for small trinkets. Most children shop for souvenirs with $5 - $25, depending on their age and interests.
You are welcome to accompany your child to our gift shop during its open hours to help your child choose appropriate souvenirs. Regular hours are 9 AM - 5 PM, but we expect that the hours will be extended to 8:00 AM to 7:30 PM during the summer, dependant on staffing.
What are the drop off and pick up procedures?
All drop offs and pick ups take place in the Cedar Elm room at Dogwood Canyon Audubon Center. No offsite drop off or pick up is allowed. No exceptions.
Children must be dropped off by a responsible adult. On the first day of camp, an adult who has the authority to sign documents and complete any missing information should drop off the child.
If registration was not completed online, documents must be completed in person by the parent or guardian. Additionally, a $30 data entry fee will be applied to the account and immediately due. We cannot accept any child that does not have a complete profile. This is for the safety of all children at camp. We do not provide refunds or transfer/delay camp dates due to the lack of a completed profile. Please ensure that all questions are completed in your child's profile at least four days prior to camp.
At the time of drop off, the adult must "sign in" with the date and time of the drop off.
Participants will be released only to individuals of at least 18 years of age who are authorized for pick up. During registration, an opportunity to list ALL authorized adults is presented. Please ensure that all adults that may pick up the child are listed. Don't forget to list yourself!
The individual picking up the child MUST show state-issued photo identification EVERY DAY. No child will be released without presentation of photo identification by a person on the approved pick-up list. No exceptions will be made to this policy regardless of how well a parent or guardian is known to camp staff.
At pick up, the adult must "sign out" the child with the date and time of pick up.
For your child's safety, camp staff has the right to refuse dismissal of a child to any person who is not coherent at the time of pick up.
Parents/Guardians are responsible for informing all adults approved for pick up of these policies and ensuring that participants are picked up timely. All fees are assessed to the parent(s)/guardian(s) registering the participants, regardless of the person to whom the participant is released.
I see that you are not licensed as a daycare facility, but you follow "Standards of Care." What does that mean?
There are certain legal standards that we are required to meet. You can read the text of the City of Cedar Hill's ordinance here.
What are bathroom protocols?
We operate on a buddy system for bathroom needs. Whether we are onsite or off-site, each child is required to take a buddy to the restroom. Adult supervision is outside of the bathroom.
Our camp staff will not go into the stall with a child unless an emergency necessitates doing so.
When children change clothes, they do so privately in bathroom stalls.
What if my child gets sick or injured? What other health/medical information can you tell me?
Make alternate care arrangements if the participant is ill. Do not bring any child to camp that has had a temperature of 100.4 degrees or higher, or has vomited, had diarrhea, drainage of the eye, green drainage of the nose, or been exposed to or infected with any infectious disease (chicken pox, mumps, strep throat, pink eye, etc.) within the 24 hours prior to drop off. Participants must be symptom-free for a full 24 hours before returning to camp.
If a participant exhibits any of the symptoms listed above, the parent(s)/guardian(s) will be called and required to pick up their child(ren) within one (1) hour, or by the pickup deadline, whichever is earliest.
All medications will be kept in the possession of camp staff. In order for medications to be accepted, a Medications Form must be completed. Participants are responsible for taking medications at the appropriate times by seeking out a camp counselor and requesting the medication. Audubon is not responsible for timely administering medications to participants.
When camp participants have been exposed to a communicable disease listed in the Department of Health's current communicable disease chart, the parents shall be notified in writing within 24 hours or the next business day of camp, unless forbidden by law, except for life-threatening diseases which must be reported to parents immediately.
No refunds are provided for days missed due to illness. Please consider purchasing a protection plan that covers illness and other areas of concern.
How do I purchase a protection plan for camp? How do I make a claim on a protection plan?
One option is presented via CampDoc, during registration, for your convenience.
If you choose to purchase a protection plan, you may do so through any company or organization offering the policy that fits your needs. You can search Google for other providers.
We do not require that a plan be purchased from any provider.
Should you purchase a policy, please be familiar with the terms and what the plan covers.
Dogwood Canyon Audubon Center and the City of Cedar Hill are not affiliated with any provider, do not process claims, do not provide advice regarding a claim or policy, and do not make decisions on claims. Please contact the provider for any claims questions.
Dogwood Canyon Audubon Center and the City of Cedar Hill cannot interpret terms or offer advice on any policy you purchase. Should you have a dispute regarding a policy, please consult an attorney.
Dogwood Canyon Audubon Center and the City of Cedar Hill do not receive any commission or kickbacks from any providers.
If I purchased the protection plan through CampDoc, who do I contact regarding my benefits or to make a claim?
Please contact Arch Insurance Solutions at 844-872-4165. Insurance coverages are underwritten by Arch Insurance Company, NAIC #11150, under policy series LTP 2013 and endorsements thereto. Policies are administered by Arch Insurance Solutions, 1-877-722-1959, CA License #0I18111, TX License #1787195. Your policy is the contract that specifically and fully describes your coverage. Certain restrictions and exclusions apply and coverages may vary in certain states. Please refer to your policy for detailed terms and conditions. Consumer disclosures can be found at www.archinsurancesolutions.com/state-notices.
I want to claim my summer camp expenses as child care expenses on my tax return. What is your tax ID?
Our tax ID is 13-1624102, which is under National Audubon Society, Inc. Dogwood Canyon Audubon Center is a wholly-owned subsidiary of National Audubon Society, Inc., which is headquartered at 225 Varick Street, Floor 7, New York, NY 10014.
We cannot advise as to whether any or all of your summer camp expenses may be claimed as child care expenses. Please consult a tax professional.
What if I still have questions about summer camp?
We'd be happy to answer them for you. Call us at (469) 526-1980 or e-mail dcac@audubon.org.
Camp Cedar Hill is offered in partnership with the City of Cedar Hill.
This program is not licensed by the State of Texas; however, it does follow Standards of Care.
How you can help, right now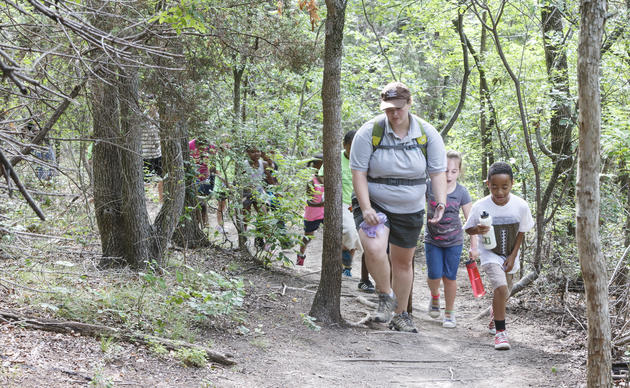 Career Opportunities at Audubon
Come join our staff and help us carry out our efforts to conserve and restore natural ecosystems to benefit both humanity and the earth's biological diversity!