Programs
Green Summer Camp in Southwest Dallas County for Young Women Ages 12-15
Coming in the Summer of 2021!
Please note that the 2020 Camp Cedar Hill summer camp is canceled due to precautions we are taking to slow the spread of COVID-19. This summer camp program will not return to Dogwood Canyon Audubon Center. In the summer of 2021, we will offer our first Environmental Stewardship Summer Camp for young ladies between the ages of 12-15 in partnership with the City of Cedar Hill.
The Environmental Stewardship Summer Camp will offer four one-week summer camp programs for young ladies between the ages of 12-15 who have interests in the outdoors, hiking, camping, birding, and environmental science and stewardship.
Participants will experience Audubon's immersive hands-on approach to real-world, science-based learning that leads to building confidence in outdoor activities and adventure while having fun and gaining skills transferrable to everyday life.
During Each One-Week Program
Camp overnight Thursday (one night)

Learn about & practice sustainability

Participate in a conservation or

sustainability project

Become immersed in field trip learning

Strengthen connections to nature

Practice Leave No Trace concepts

Gain experience & confidence in the outdoors

Build leadership skills

Have fun and make lasting friendships
Primary Details
Open to young ladies ages 12-15

Small groups! No more than 12 participants each week.

Camp hours: Monday-Friday 9:00a-4:00p with overnight camping Thursday

(no pickup needed Thursdays)

Price is $350 per week

Session dates will be determined in early 2021, but we expect to offer two weeks in June and two weeks in July.
Additional Details
Enroll in multiple sessions!

Each week will have a different focus, activities, and camping location.

Tuition covers all field trips and transportation, one night of camping, dinner Thursday, breakfast Friday, and use of camping supplies.

Audubon will provide a packing list for the overnight.

Participants will not be required to provide any specialized or camping equipment. Due to space limitations, participants will be limited to one overnight bag plus a pillow. Participants may use their own sleeping bag or borrow a sleeping bag from Audubon. Tents will be provided by Audubon.

For each session, a different state park or private campground will be chosen for the overnight campout. The campground will be located within a two-hour drive of Dallas.

The deadline to register for each session is the Saturday prior to the week of camp. All online forms must also be completed by this deadline.

Because many of the activities will be offsite, participants must be dropped off by 9:00a each morning. The earliest time accepted for drop off is 8:45a.

Pickup will be between 4:00p-4:15p, except for Thursdays. When participants are dropped off Thursday morning, they must have all items needed for the overnight camping trip. Participants will return to Dogwood Canyon during the day Friday and will be available for pickup between 4:00p-4:15p.
Where to Register
Our online registration portal will open in 2021. In order to receive a notification when registration opens, email us and let us know that you are interested. Please note that we cannot accept registrations in person.
After purchasing a camp registration, the parent/guardian must complete the registration process by completing the Health History and additional required information on CampDoc. The deadline to complete all required information is the Saturday before the session begins.
For the safety of all participants, we cannot accept children at drop off that do not have a complete registration.
Dogwood Canyon Audubon Center does not offer refunds on camp registration and purchases. Please consider purchasing a protection plan through a third party. One option is presented via CampDoc, during registration, for your convenience. If you choose to purchase a protection plan, you may do so through any company or organization offering the policy that fits your needs. We do not require that a plan be purchased from any provider. Should you purchase a policy, please note that Dogwood Canyon Audubon Center is not affiliated with the provider, does not process claims, does not provide advice regarding a claim or policy, and does not make decisions on claims.
Please note that refunds are not provided when the registration process has not been completed, but the camp registration has been purchased.
Fine Print
Environmental Stewardship Camp is offered in partnership with the City of Cedar Hill.
Dogwood Canyon Audubon Center is an operation of National Audubon Society, Inc., a non-profit organization operating under Tax ID 13-1624102.
This program is not a day care program and is not licensed by the State of Texas; however, it does follow Standards of Care.
How you can help, right now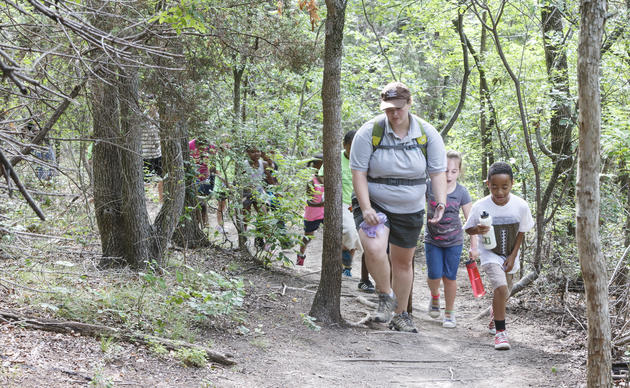 Career Opportunities at Audubon
Come join our staff and help us carry out our efforts to conserve and restore natural ecosystems to benefit both humanity and the earth's biological diversity!