Programs
Summer Camp - Camp Cedar Hill
Science, Nature & Outdoor Learning in an Affordable Day Camp
2019 DATES: MAY 28–JULY 26
AGES 6–11
Encourage your child's inquisitive nature and prepare him or her for future experiences in science and conservation. Campers learn to approach questions using science while also having fun, gaining self-confidence, growing imaginations and making lasting camp friends.
A typical day may include outdoor exploration, crafts, games, learning about animals, meeting special guest speakers, and conducting science experiments. Weekly experiences include swimming and field trips (2 off-site trips/week).
Get all your questions answered on our FAQ page.
Limited scholarships are available thanks to funding by Wild Birds Unlimited and an anonymous donor. See additional scholarship information below.
Camp Hours
Camp activities are from 9am-4pm daily. Unless extended care is purchased or alternate arrangements are made in advance, campers should be dropped off 8:45am-9:15am and picked up 3:45pm-4:15pm. If purchased, extended care begins at 6:30am and ends at 6:30pm.
Camp will be closed Monday, May 27 and Thursday, July 4. Rates are discounted these weeks.
Additional Information
All registrants must be between the ages of 6-11 during the week of camp and must have completed kindergarten.
Registration includes lunch. Extended care participants receive cold breakfast, such as cereal or Pop-Tarts, if they arrive by 8:15am.
Registration also includes a camp t-shirt (one per child per camp season). Extra shirts are available for purchase. Please note that campers are required to wear shirts whenever camp goes off-site. Some parents purchase extra shirts to cut down on washing.
Pricing
$125/week, reduced price of $110/week during holiday weeks (Memorial Day week & 4th of July week)
$40 one-time registration fee per child
Extended care: $25/week (6:30a-6:30p)
Late pick up fee: $25/incidence per child – must be paid within 24 hours (We encourage you to purchase extended care, which gives greater flexibility in pick up and drop off times.)
Optional add-ons:
Extra camp t-shirt: $10.83 (including tax)
Souvenir package: $8.66 (including tax) – includes drawstring backpack, reusable water bottle, pencil. Please note that children are required to have a backpack & water bottle for camp.
Dogwood Canyon Audubon Center does not offer refunds on camp registration and purchases. Please consider purchasing a protection plan through a third party. One option is presented via CampDoc, during registration, for your convenience. If you choose to purchase a protection plan, you may do so through any company or organization offering the policy that fits your needs. We do not require that a plan be purchased from any provider. Should you purchase a policy, please note that Dogwood Canyon Audubon Center is not affiliated with the provider, does not process claims, does not provide advice regarding a claim or policy, and does not make decisions on claims.
Scholarships
A limited number of scholarships are offered throughout the summer, so we encourage applying as soon as possible. Scholarships are limited to one per child and are limited to use during the month of July.
Scholarships cover full tuition and registration fees for one week of camp. Scholarship recipients also receive a souvenir bag, which includes a drawstring backpack, water bottle and pencil. Scholarship recipients may enroll in additional weeks of camp without paying the registration fee.
In order to obtain a scholarship, download the application and read thoroughly. Send the complete application to dcac@audubon.org at least seven days prior to the desired camp week. If the scholarship is approved, a unique coupon code will be provided for use on the registration portal. Parents/guardians are required to complete the registration through the portal within two days of notification of the award. Scholarship recipients are subject to the same camp rules and requirements of all other camp participants.
Download the scholarship application here.
Where to Register
Please visit our online registration portal by clicking here. We cannot accept registrations in person.
After purchasing a camp registration, the parent/guardian must complete the registration process by completing the Health History and additional required information on CampDoc. For the safety of all children at camp, we cannot accept children that do not have a complete registration. Please note that refunds are not provided when the registration process has not been completed, but the camp registration has been purchased.
Camp Cedar Hill is offered in partnership with the City of Cedar Hill.
This program is not licensed by the State of Texas; however, it does follow Standards of Care.
How you can help, right now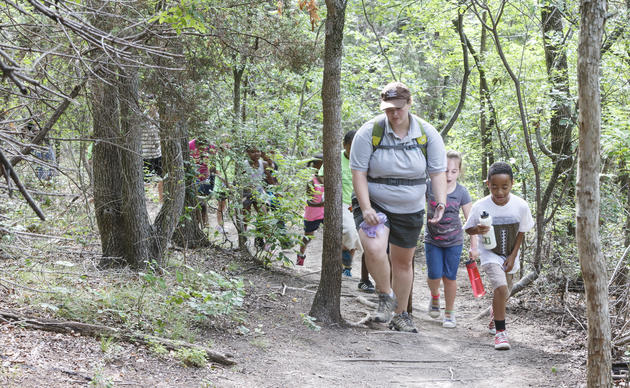 Career Opportunities at Audubon
Come join our staff and help us carry out our efforts to conserve and restore natural ecosystems to benefit both humanity and the earth's biological diversity!