Programs
Green Summer Camp in Southwest Dallas County for Young Men and Women Ages 12-15
Summer 2022 -
We are in the process of updating the information on this page. For inquiries, please contact Katie at kchristman@audubon.org or 469-526-1980.
This summer, we are offering our first Environmental Stewardship Summer Day Camp for young men and women between the ages of 12-15.
Our summer camp programs are geared toward those who have interests in the outdoors, hiking, nature, birding, environmental science, and environmental stewardship. No prior experience in these fields is required.
Participants will experience Audubon's immersive hands-on approach to real-world, science-based learning that leads to building confidence in outdoor activities and adventure while having fun and gaining skills transferrable to everyday life.
During The One-Week Program
Learn about & practice sustainability

Participate in a conservation or

sustainability project

Become immersed in field trip learning

Strengthen connections to nature

Practice Leave No Trace concepts

Gain experience & confidence in the outdoors

Build leadership skills

Have fun and make lasting friendships
Primary Details
Open to young men and women in the age range of 12-15 (as of July 1, 2022), and who have completed at least 6th grade.

Small groups! No more than 10 participants each week.

Camp hours: Tuesday-Friday 8:30a-12:00p

Price: $200

Session date:

​

June 14-17, 2022
July 12-15, 2022

Completed registration packets are due Friday the week prior to camp. Registration forms are required to hold the participant's spot.
Additional Details
Our full policies and procedures are detailed in the registration packet.

All field trips and transportation are covered.

No meals are provided. Participants are encouraged to bring snacks if desired.

We will begin accepting drop-offs in the mornings at 8:00a. Participants must be dropped off by 8:30a.

Pickup begins at noon and all participants must be picked up by 12:30p.

For the safety of all participants, we cannot accept participants at drop-off that do not have a complete registration.
Dogwood Canyon Audubon Center does not offer refunds on camp registration. Please consider purchasing a protection plan through a third party. If you choose to purchase a protection plan, you may do so through any company or organization offering the policy that fits your needs. We do not require that a plan be purchased from any provider. Should you purchase a policy, please note that Dogwood Canyon Audubon Center is not affiliated with the provider, does not process claims, does not provide advice regarding a claim or policy, and does not make decisions on claims.
Please note that refunds are not provided when the registration process has not been completed, but the camp registration has been purchased.
Fine Print
Dogwood Canyon Audubon Center is an operation of National Audubon Society, Inc., a non-profit organization operating under Tax ID 13-1624102.
This program is not a day-care program and is not licensed as such by the State of Texas.
How you can help, right now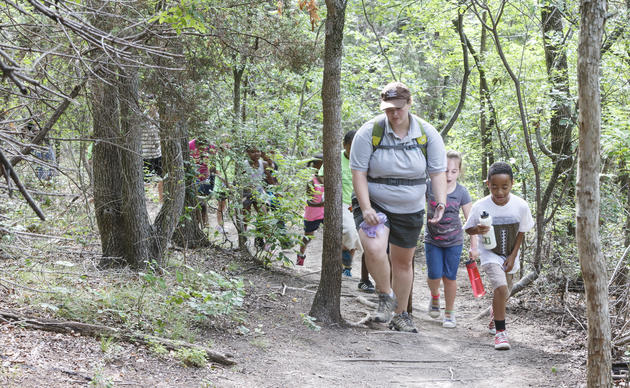 Career Opportunities at Audubon
Come join our staff and help us carry out our efforts to conserve and restore natural ecosystems to benefit both humanity and the earth's biological diversity!