Academics
Eco Investigations with Live Bird of Prey Encounter
Our signature two-hour TEKS-aligned field trip for school groups
Program Description
*Please note, we are in the process of updating our field trip experience for you! The prices listed on this page are accurate as of October 13, 2021. If you would like more information, please email us at dcac@audubon.org or call 469-526-1980.
Eco Investigations programs are two-hour expedition field trips led by Audubon educational staff/volunteers and Texas Master Naturalist educators, designed to strengthen critical thinking skills across multiple disciplines and incorporate hands-on, inquiry-based learning strategies linked with state-mandated Texas Essential Knowledge and Skills objectives for grades K - 8. Students fortify their scientific observation and identification skills and gain knowledge to become a steward of our natural resources.
This program combines engaging classroom training and outdoor explorations to discover and learn about plant and animal adaptations, habitats, and specific Texas ecosystems. Students document their discoveries in their scientific field journals along the way. During every Eco Investigations program (weather-dependent), students take a self-guided hike through our canyon forest habitat to learn how all living and non-living things interact and depend on each other for survival. Students also meet our resident bird of prey, an American Kestrel, up close, and explore what enables raptors to survive in their environment. Students will participate in a variety of other activities depending on their grade level. Some of these may include conservation action projects such as removing invasive species or making seed balls to benefit our endangered Blackland prairie.
This program is alternatively available with a reptile encounter (click for additional information).
Special program customization is available to address specific student expectations and/or benchmarks. We can also bring this program to your campus with appropriate alterations based on your natural resources.
Grade Levels
Kindergarten-8th Grade
Location Options
Dogwood Canyon Audubon Center or your campus
Pricing and Other Information
| Number of Students | Cost per Student |
| --- | --- |
| 25-90 | $11.95 |
| 51-75 | $11.45 |
| 76-100 | $10.95 |
| 101-150 | $10.45 |
Chaperones at no cost up to 1:7 ratio.
We require chaperones at a 1:10 ratio.
$298.75 minimum (equivalent to 25 students)
Max 50 students
Typically booked from 10:00am-noon. Communicate any needed changes in time when booking.
Policies, Booking and Contact
Please see our Policies, Booking and Contact page to proceed.
Other Programs
Download a PDF version our program list from our Academic Program Documents page.
How you can help, right now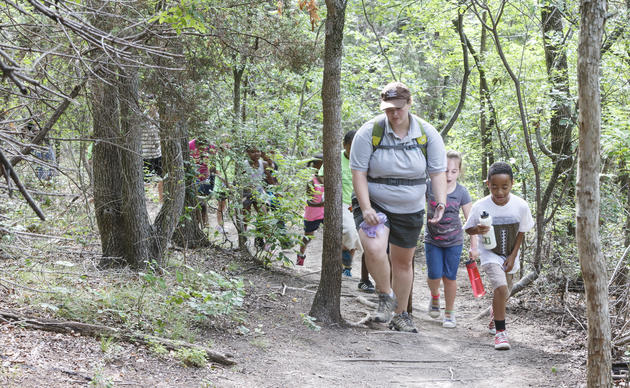 Career Opportunities at Audubon
Come join our staff and help us carry out our efforts to conserve and restore natural ecosystems to benefit both humanity and the earth's biological diversity!