Our week-long outdoor education programs inspire passion and a sense of stewardship for the natural world. We bring students, grades 9-12, to some of the wildest and most beautiful places in Texas. Part leadership program, part outdoor adventure, participants will have a life-changing experience.
What You'll Experience
An Unrivaled Education Experience
Student adventurers will be learning directly from educators from one of the leading names in conservation. Each program seamlessly incorporates conservation, ecology lessons, and discussions into our outdoor programming. Treks embrace service-learning as one of the key components to our successful trips and these projects form some of the most memorable experiences for the participants.
A Chance to Develop 21st Century Skills
There is a profound gap between the knowledge and skills most students learn in school and the knowledge and skills they need in typical 21st-century communities and workplaces. The American Management Corporation reports that employers want workers who can think critically, solve problems creatively, innovate, collaborate, and communicate. The dynamic and challenging programming we provide help to develop these skills, requiring participants to step out of their comfort zone and into their learning zone. Traveling and navigating as a team, cooking meals together, boating with your peers, setting up tents, dealing with unpredictable weather, all require collaboration, clear communication, critical thinking, and creative problem-solving. Join us and see the change in yourself and your peers.
An Incredible Itinerary
Audubon has over 100 combined years of knowledge of our surrounding areas and environment and we are here to share that knowledge with you. We'll take you to the coolest places and explore them by hiking, rafting, rock climbing, or backpacking.
Personal Attention from Great Instructors
We have an unbeatable ratio of one adult to every nine students, every adventurer will have the personal attention they need to thrive. Audubon environmental educators have traveled the world and now are ready to share their passion, enthusiasm, and sense of wonder with all participants!
Safety
Safety is always our top priority. All instructors are well versed and knowledgeable with the varied environments, and we provide all necessary gear to make these the safest trips possible. Each trip will have an instructor that is a Wilderness First Responder certified by the Wilderness Medicine Institute.
Great Food
We take the time to plan every meal that you and other adventurers will take part in cooking. We can accommodate food allergens and dietary restrictions.
Serving Title 1 Schools and Communities
Scholarships that will cover the entire cost of the program are available on a first-come, first-served basis to Treks attendees. Unlike other travel programs, our program includes travel expenses, food and snacks, tents, sleeping pads, and all necessary outdoor gear; all we need for you to bring is some personal items and, if you have it, a personal sleeping bag.
Facts
Group limit: 18 students
Age: 14-18
Facilitators: Audubon staff-1:9 staff/student ratio
Cost: Scholarships will be awarded for Title 1 students that will cover all supplies; participants only need to bring clothing, shoes, and personal items
Trip value: Over $800 per participant
Contact us today for additional information at dcac@audubon.org.
How you can help, right now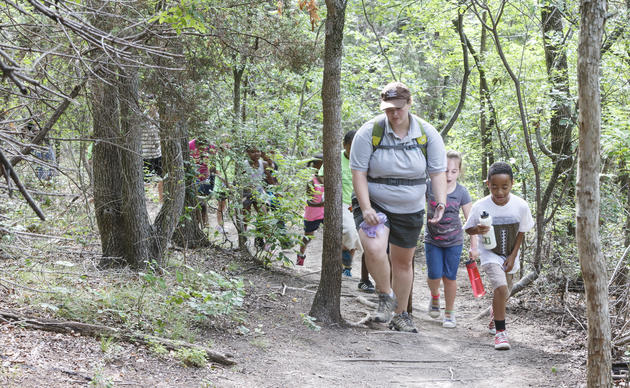 Career Opportunities at Audubon
Come join our staff and help us carry out our efforts to conserve and restore natural ecosystems to benefit both humanity and the earth's biological diversity!