Academics
Audubon Aquatic Adventures
An aquatic version of our 4-hour signature TEKS-aligned field trip
Program Description
Get out on the water and explore! Our 4-hour guided kayak expedition field trips are for students in grades 5-12 and are led by Audubon staff and volunteers on Joe Pool Lake at Cedar Hill State Park (map).
This paddling voyage will open up your students' eyes to the importance of environmental stewardship and increase their appreciation for our natural resources.
Students will learn basic kayaking skills and how to be safe while enjoying time on the water. In addition, they will investigate the ecology and habitat of aquatic environments by performing water testing analysis. Lastly, students will improve their scientific observation and identification skills by discovering what living things rely on in our aquatic ecosystems.
All necessary gear such as kayaks, paddles and life vests will be provided. State Park admission fees are covered by program fees. Further program customization is available. No kayaking experience is necessary.
If you prefer that this program not be TEKS-aligned, just let us know. Some teachers have used this program as a fun way for their students to explore Cedar Hill State Park while still being educational, with a combination of kayaking, hiking, lunch and free time. There is no difference in pricing. However, for small classes or groups of 20 or less that prefer a non-TEKS-aligned program, our Kayak Eco-Tours might be a better option at a lower price and with more time on the water.
Students Will...
Learn basic kayaking skills and how to be safe on the water
Investigate the ecology and habitat of aquatic environments by performing water testing analysis
Improve their scientific observation skills by identifying living things they encounter during the guided paddle and learn why they rely on healthy aquatic habitats
Grade Levels
5th - 12th
Location Options
Cedar Hill State Park
Pricing and Other Information
$1,000 for up to 60 students
Increase students' kayaking time at $150/hr
For more than 60 students, please book two dates
Program Length: 4 hours
Max of 1:7 chaperone to student ration. Minimum of 1:10 chaperones to students required.
Chaperones may not have the opportunity to kayak.
Policies, Booking, and Contact
Please see our Policies, Booking and Contact page to proceed.
Other Programs
Download a PDF version our program list from our Academic Program Documents page.
How you can help, right now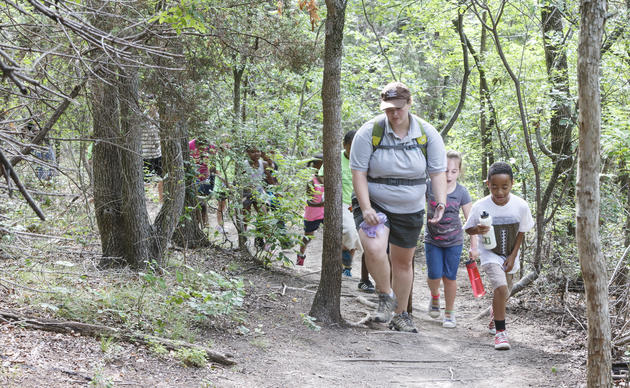 Career Opportunities at Audubon
Come join our staff and help us carry out our efforts to conserve and restore natural ecosystems to benefit both humanity and the earth's biological diversity!